Listen Here
Raising a strong-willed ADHD child when you have ADHD yourself is a specific challenge that connects so many of us, including my guest this episode, author Katherine Ellison. Too often as parents we can find ourselves in power struggles over things that ultimately don't matter and only serve to damage our relationships, which is why Katherine is here to tell us that when we're in those power tug-of-wars with our children, it's our job to drop the rope.
Katherine is the author of the brilliant book, Buzz: A Year of Paying Attention, where she details her experiences raising a spirited ADHD child and the lessons she learned about how to support him best. "You can't be the person, as the mother, having the power struggles with them and teaching them what they need to know. You just have to love them. They're getting so much negativity from the rest of the world that they need you to be their solid ally."
Join me and the extraordinary Katherine Ellison as we dive into the ups and downs of raising spirited ADHD children, ways to take a step back when you notice a power struggle starting, the importance of identifying our childrens' strengths and areas of brilliance, and the absolute necessity of creating a loving and supportive environment where that brilliance can flourish.
Resources:
Website: www.katherineellison.com
Book: BUZZ: A Year of Paying Attention - https://www.amazon.com/BUZZ-Paying-Attention-Katherine-Ellison/dp/B0BPGMCQVH
Facebook: Katherine Ellison official
---
Mastering Your ADHD Brain Means Learning How to Trust Yourself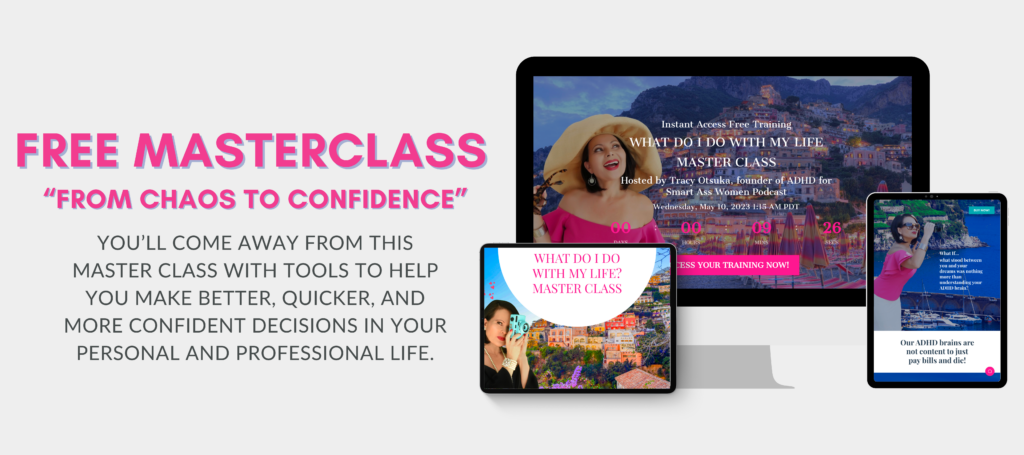 ---
Timestamps
1:06:05 - Episode 228: Raising a Spirited ADHD Child with Pulitzer-Prize Winning Author Katherine Ellison
03:10 - Interview with Pulitzer Prize Winning Investigative Reporter and Author, Catherine Ellison
04:35 - Conversation between Tracy Otsuka and Katherine Ellison on ADHD and the Impact of Buzz: A Year of Paying Attention
09:33 - Conversation between Katherine Ellison and Tracy Otsuka on Supporting a Child with ADHD
11:44 - Conversation between Katherine Ellison and Tracy Otsuka on Neurodiverse Students in Schools
15:42 - Conversation Between Tracy Otsuka and Katherine Ellison on Supporting ADHD Children
17:57 - Conversation on Parenting Neurotypical and Neurodivergent Children
19:03 - Conversation between Tracy Otsuka and Katherine Ellison on ADHD Diagnosis and Double Whammy of Having ADHD and a Child with ADHD
21:27 - Conversation between Katherine Ellison and Tracy Otsuka on the Impact of ADHD on Women
22:45 - Conversation between Katherine Ellison and Tracy Otsuka on Overachieving and ADHD
24:29 - Conversation between Tracy Otsuka and Katherine Ellison on ADHD Diagnosis and Career Challenges
29:59 - Interview with Katherine Ellison: How ADHD Diagnosis Changed Her Life
32:15 - Conversation between Katherine Ellison and Tracy Otsuka on ADHD Resources and College Experiences
33:39 - Conversation Summary: Accommodations for a Student with Fast Processing Speed
35:48 - Conversation Summary: Tracy Otsuka Discusses Her Son's Anxiety and Use of Medication
39:11 - Conversation between Katherine Ellison and Tracy Otsuka on Mental Health and Book Deal
40:34 - Conversation on Strengths and Weaknesses of ADHD
42:32 - Conversation between Tracy Otsuka and Katherine Ellison on ADHD Diagnosis and Finding Strengths
48:38 - Conversation Between Katherine Ellison and Marcus About a 911 Gameboy Story
50:37 - Interview with Katherine Ellison: Reflections on Parenting a Child with ADHD
54:54 - Conversation Between Katherine Ellison and Tracy Otsuka on Parenting and Setting Boundaries
1:00:22 - Conversation between Katherine Ellison and Tracy Otsuka on ADHD Traits and Success
1:00:47 - Conversation between Katherine Ellison and Tracy Otsuka on Managing Anxiety and ADHD
1:02:27 - Interview with Katherine Ellison: Working on Democracy and Writing for Candidates
1:04:34 - Interview with Katherine Ellison: Exploring the Impact of ADHD on Women's Lives