Listen Here
As ADHD women we are often endlessly creative and optimistic about how much we can accomplish, but when that optimism turns into setting impossible goals for ourselves, it stops us from actually bringing our brilliant ideas into reality. My guest this episode, Roxanne Jarrett, is an entrepreneurial coach who helps her ADHD and dyslexic clients tackle this problem head-on by giving them the skills and supports to follow through on their dreams from beginning to end.
Roxanne is ADHD herself, so she knows firsthand that a traditional approach won't work for her clients' unique brains. Instead, she teaches people how to get realistic about time, set up a positive environment, prioritize self-care, and reduce lofty expectations in order to create goals that are actually achievable.
Roxanne is passionate about supporting creators as they reduce overwhelm by designing a structure and environment in which to thrive. I hope her incredible insights inspire you to start taking small steps toward your own big dreams. 
Resources:
Website: www.swellhead.com
Instagram: @roxannejarrett
---
Mastering Your ADHD Brain Means Learning How to Trust Yourself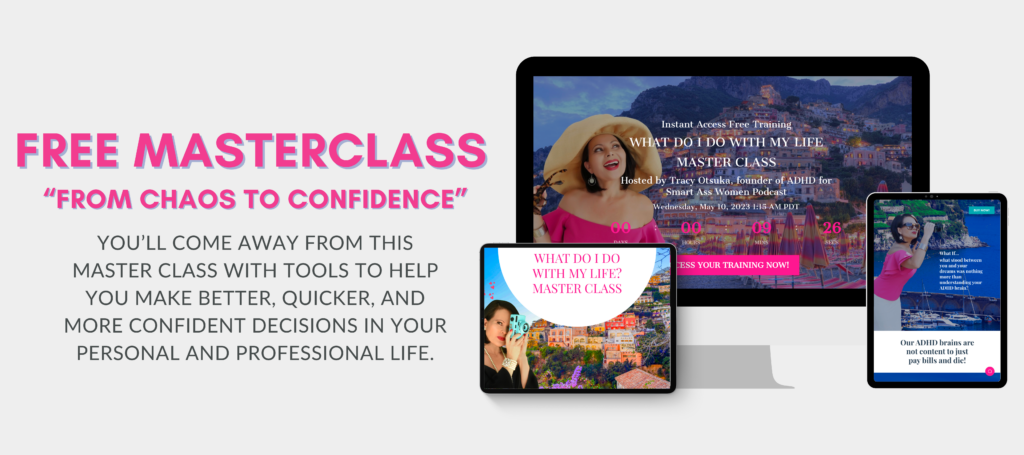 ---
Timestamps
1:00:09 - Episode 227: How to Start and Finish Anything with Roxanne Jarrett - A Discussion on ADHD for Smart Ass Women
03:16 - Interview with Roxanne Jarrett: A Creative Midwife for Entrepreneurs with Executive Functioning Challenges
06:35 - Conversation between Tracy Otsuka and Roxanne Jarrett on ADHD Diagnosis
08:23 - Conversation between Tracy Otsuka and Roxanne Jarrett on Recognizing ADHD Symptoms
10:18 - Conversation between Tracy Otsuka and Roxanne Jarrett on Dyslexia and School Experiences
13:02 - Conversation Between Tracy Otsuka and Roxanne Jarrett on Reading Habits and Trauma
16:26 - Conversation between Tracy Otsuka and Roxanne Jarrett on Overcoming Academic Difficulties Prior to College
21:46 - Conversation Between Tracy Otsuka and Roxanne Jarrett on ADHD Diagnosis and Treatment
23:52 - Conversation between Roxanne Jarrett and Tracy Otsuka on Self-Care and Environment for Entrepreneurs with ADHD and Dyslexia
26:58 - Conversation with Roxanne Jarrett: Self Care, Environment, and Work Hierarchy
31:17 - Conversation on Self-Care and Environment for ADHD Women
34:14 - Conversation on Self-Care and Working with People with ADHD
36:24 - Conversation with Roxanne Jarrett: Helping People with Executive Functioning Challenges Accomplish Their Goals
39:01 - Conversation on Setting Realistic Goals for Board Game Designers
43:21 - Conversation on Setting Delivery Dates and Planting Seeds for Success
45:12 - Conversation on Managing Time and Energy for Content Creators with ADHD
49:17 - Conversation between Roxanne Jarrett and Tracy Otsuka on Successfully Living with ADHD
52:10 - Conversation on Utilizing Amazon Echo as an ADHD Workaround
54:03 - Conversation on the Benefits of Amazon Echo
55:52 - Interview with Roxanne Jarrett: Creating Videos to Help People Be More Productive
57:56 - Conversation with Roxanne Jarrett: Changing the Conversation Around ADHD for Smart Ass Women