Listen Here
In this podcast I answer Amanda's question who is one of our Facebook Group members. Amanda asked what she should do if she's bored in her career and knows she needs a new or different challenge.
Tracy first shares why major life decisions are so hard for everyone to make but especially hard for those with ADHD.
Learn what should be the driving force in any major life decision and why big life decisions and seemingly easy decisions can both be hard decisions to make.
Find out what makes a decision easy to make.
Tracy then gives advice on what to do when you're trying to decide between two equal jobs.
Learn why values and purpose are so important to any hard decision you need to make and why we often get it wrong. Hint: it's all related to how we've been taught to make decisions and logic, analysis and research is not always the best way.
Discover who's the best expert to go to when making a big life decision and what you should pay especial attention to.
Tracy talks about how there is no such thing as a mistake or a bad decision unless you keep doing the same thing over and over again and hate the results.
We learn to pay attention to our brains as a guide for what we should do but Tracy teaches us that there's something even more important to focus on when we're making major life decisions.
Discover why not making a decision and letting others make them for you is the worst decision you can possibly make.
Learn what the two big questions are that you should always ask when making a decision?
Tracy then shares a strategy for testing if you're moving in the right direction and making the right decision. This strategy can also increase your motivation and help you move forward even quicker.
About Tracy
Host Tracy Otsuka is a lawyer, not a doctor, a life-long student, not a coach. She's also the creator of Coretography a patent pending system that helps smart, driven women understand their own unique ADHD brain and use it to their advantage.
Tracy will be talking about ADHD. Your super powers, your symptoms, your solutions and work-arounds and how you proudly stand out. Tracy credits ADHD for some of her superpowers and much of her success in life.
---
Mastering Your ADHD Brain Means Learning How to Trust Yourself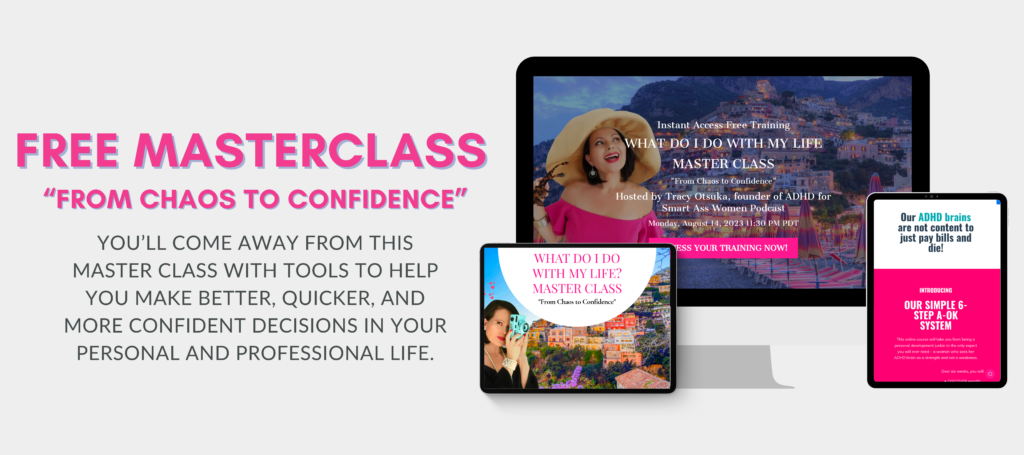 ---