Listen Here
Join Tracy as she welcomes Michelle Nickel to Episode 97 of ADHD for Smart Ass Women. Michelle earned a degree in liberal arts and followed that up with an MBA. She went to work for a major brokerage firm at the age of 25. Along the way she earned AAMS (Accredited Asset Management Specialist) and CFP (Certified Financial Planner) designations and also holds series 7, 63 and 66 Securities Licenses. Working in a small town, Michelle did everything from making sure little old ladies didn't run out of money, designed retirement plans, set up college savings accounts and everything in between. Her favorite thing to do is to take a giant pile of financial statements and data and turn it into a comprehensible and workable plan for her clients.
Michelle learned how to manage investments from her company, but managing day to day finances was harder, because of her ADHD. After 23 years working as an advisor, Michelle was able to retire at 48. Michelle lives with her husband and two teenage boys, both of whom have ADHD, in Alabama.
Michelle shares with us:
The circumstances surrounding her ADHD diagnosis
Her ADHD symptoms
How to save
The importance of automating everything you can
How to save if we're self-employed
What we should do with credit cards
How to pay bills
How to budget
The importance of cash
The ADHD traits that Michelle feels are responsible for her success
The ADHD traits that Michelle still struggles with
Her key to living successfully with ADHD
Her number one ADHD workaround
What it means to make decisions in advance
Her future plans for "retirement"
Resources:
The Automatic Millionaire by David Bach
About Tracy
Host Tracy Otsuka is a lawyer, not a doctor, a life-long student, not a coach. She's also the creator of Coretography a patent pending system that helps smart, driven women understand their own unique ADHD brain and use it to their advantage.
Tracy will be talking about ADHD. Your super powers, your symptoms, your solutions and work-arounds and how you proudly stand out. Tracy credits ADHD for some of her superpowers and much of her success in life.
---
Mastering Your ADHD Brain Means Learning How to Trust Yourself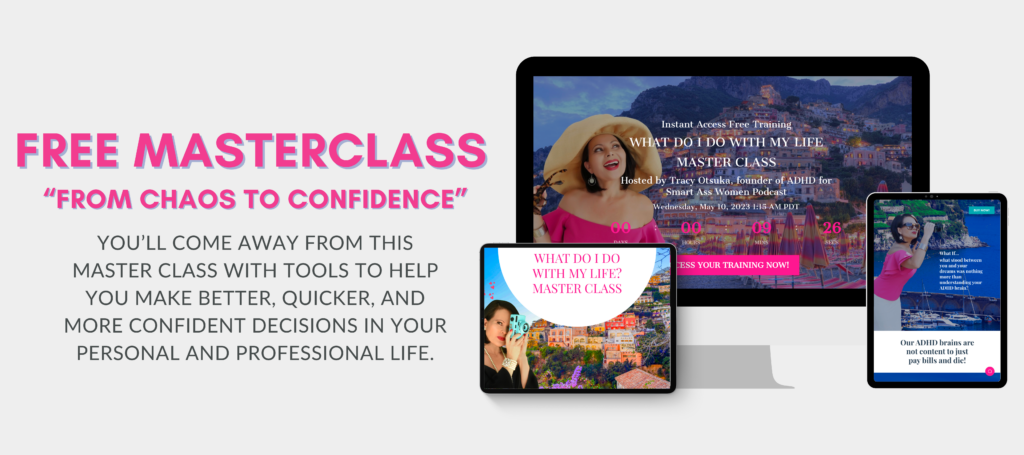 ---