Listen Here
Tracy was inspired to talk about this topic from one of the members of her Facebook group. She shared this member's story about always being late. Not intentionally, but because she doesn't have a good grasp for how long things will take. When she made the effort to be on time (because it is important to her) it took every bit of her focus. "Why," she asked, "is time so hard for me?"
Here are Tracy's insights about time in this part one episode.
Why does the ADHD brain struggle with time?
The first part is understanding why we do what we do. Once we understand why only then can we find actual work-arounds and resources that will work for us. We'll cover that in detail in part two in the next episode.
You have to hear Tracy's dating story about showing up late – and then being less than truthful about it. This was one of the experiences that helped her realize that time was an issue for her.
The ADHD brain is time blind. It doesn't have a good understanding of time because we can't feel time. Often we can't even see time. We don't know how many minutes or hours a project can take. Find out why this skill is so hard for us.
Cooking a meal and hosting guests is another example of how the lack of time-awareness can cause issues. Hear Tracy's go-to solution and results.
Hear what she learned when she decided to time herself on a few kitchen-related tasks. Hint: her estimate was not at all accurate!
Being on time professionally is a value for Tracy. Is it a value for you?
Tracy's research on time explains that time has to be learned. Many ADHD people do not have a fluid awareness of time because we can't see it or feel it.
Find out why distractions can impact our best time-management strategies.
Time issues are also related to memory issues. Tracy explains why they are linked and how one impacts the other.
Tracy explains future myopia and how it impacts the ADHD person's understanding of time. You'll no doubt see yourself in this explanation.
Arguing with time is a thing. Do you find yourself doing this?
How do your beliefs impact your timeliness or lack thereof? Do your time-beliefs work for you?
Recurring appointments, yes or no? Does putting everything on the calendar work for you?
Tracy shares how asking for help with planning and scheduling has helped her.
Emotional regulation is a part of why we struggle with time and Tracy explains how it can impact you.

Next week Tracy is sharing what's working for her and others. It starts with understanding ourselves and what matters to us. Having that information is imperative. That's why Tracy created Coretography.
About Tracy
Host Tracy Otsuka is a lawyer, not a doctor, a life-long student, not a coach. She's also the creator of Coretography a patent pending system that helps smart, driven women understand their own unique ADHD brain and use it to their advantage.
Tracy will be talking about ADHD. Your super powers, your symptoms, your solutions and work-arounds and how you proudly stand out. Tracy credits ADHD for some of her superpowers and much of her success in life.
---
Mastering Your ADHD Brain Means Learning How to Trust Yourself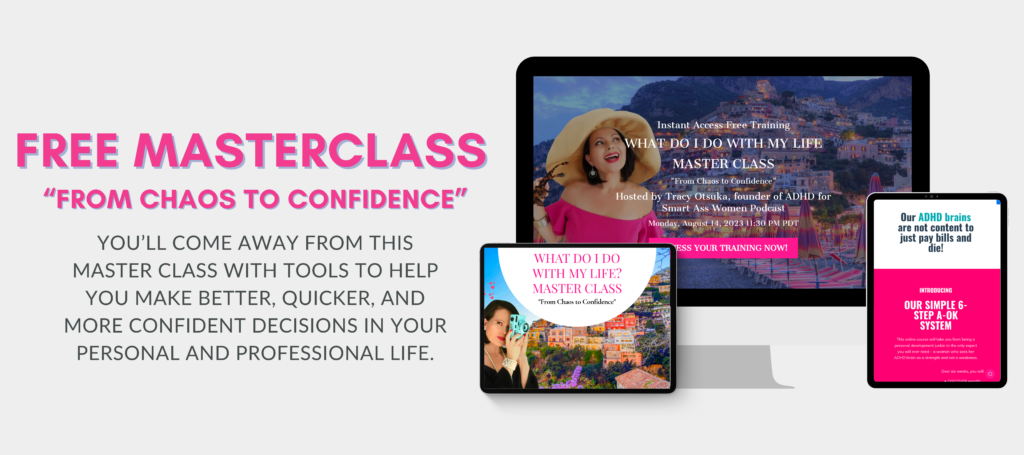 ---