Listen Here
We have executive functions that help us in life. They help us organize, plan and control our life
so it's manageable. It's how we can take care of ourselves and get things done. Most of us with ADHD have trouble with one or more of the six executive functions. Today, I am talking about the executive function that involves emotion. It's what helps us manage frustration and it gives us the ability to regulate our emotions.
Here are the key elements Tracy has learned when dealing with emotions and situations that can become emotional.
Tracy explains emotional dysregulation and how it shows up and how it impacts us.
How does stress impact our emotions and how do recognize it in ourselves and in others?
Tracy shares how perfectionism and time management affect her emotions and how she's learned to work around these situations.
Intensity is a big part of ADHD and it's a big part of managing emotions as well.
Tracy's experience with the Apple watch, and how it's helped her be able to cook again!
What can you do when emotional intensity comes up? Listen for some go-to solutions that can help you manage or even remove an emotionally charged situation.
You can choose. Tracy shares that awareness is separate from emotion and thought. How to identify and name what is causing the emotion and doing this exercise can help.
Don't miss Tracy's bull frog story. It'll make you smile.
Why allowing ourselves to feel the feelings can ultimately help you eliminate the feeling.
If you want different results, you need to change your behavior. Emotions don't always lead to a behavior; sometimes it's the opposite.
Self-control is a neurobiological trait. It requires the ability to have hind-sight and fore-sight and the ability to wait. Understanding how this impacts behavior is key to managing emotions.
Perry Janssen, Psychotherapist gave us great tips you'll find helpful.
Join us for more discussions in the ADHD for Smart Aleck Women Facebook Group
About Tracy
Host Tracy Otsuka is a lawyer, not a doctor, a life-long student, not a coach. She's also the creator of Coretography a patent pending system that helps smart, driven women understand their own unique ADHD brain and use it to their advantage.
Tracy will be talking about ADHD. Your super powers, your symptoms, your solutions and work-arounds and how you proudly stand out. Tracy credits ADHD for some of her superpowers and much of her success in life.
---
Mastering Your ADHD Brain Means Learning How to Trust Yourself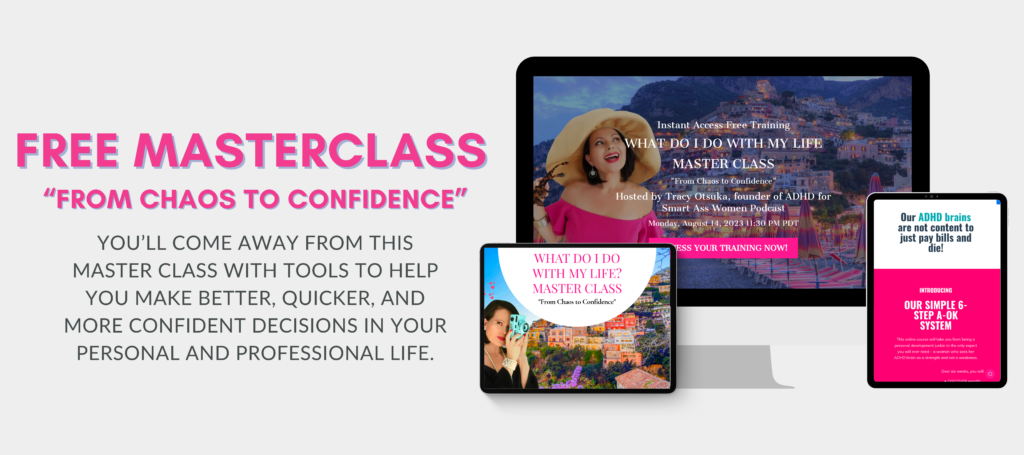 ---