Listen Here
Tracy talks about the misconceptions about kids with ADHD and how her son wasn't your "typical" ADHD kid. When teachers saw her son become "unmotivated" it was chalked up to laziness. Since then, Tracy got answers and began her mission to educate herself and others.
ADHD isn't a disorder caused by modern life. Tracy explains why someone with ADHD may be on social media or playing video games more than others. It's not what you think!
Hear why Tracy thinks the attention deficit part is all wrong. You probably will too!
Learn about studies that prove that the brain of ADHD kids is significantly different. This is important in understanding how to thrive with an ADHD brain.
Tracy shares a list of traits that can be attributed to behavior by ADHD children.
Hear how ADHD differs from mood disorders. The emotional impact is different.
Blaming parents for the "behavior" of ADHD kids is not helpful. Self-control is a neurobiological trait. It isn't something you can teach – no matter how hard you try.
Find out why the concept of time is a big part of the challenge in dealing with children with ADHD.
What wired for interest means and why it's important to understand it.
Tracy shares how Markus excels when he's doing things that he enjoys. It's not that he won't focus on other things, he literally can't!
The dopamine affect – why you need to understand it.
Helping our ADHD kids figure out their passion and interests contribute to life-long success.
Hear the positives about ADHD kids. These traits aren't discussed often so they are not understood but they should be.
There are disturbing facts about potential issues for our ADHD kids. That's why it's so important to understand and guide them to live up to their potential.
About Tracy
Host Tracy Otsuka is a lawyer, not a doctor, a life-long student, not a coach. She's also the creator of Coretography a patent pending system that helps smart, driven women understand their own unique ADHD brain and use it to their advantage.
Tracy will be talking about ADHD. Your super powers, your symptoms, your solutions and work-arounds and how you proudly stand out. Tracy credits ADHD for some of her superpowers and much of her success in life.
Contact Tracy:
tracy@tracy-otsuka
---
Mastering Your ADHD Brain Means Learning How to Trust Yourself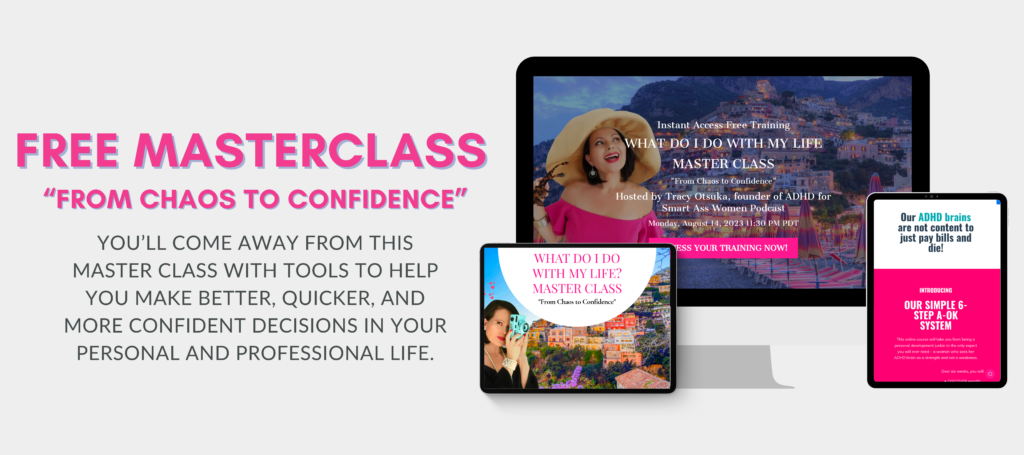 ---