Listen Here
Applying to college feels more like a grueling competition these days, with an acceptance into one of the top 20 schools being the ultimate prize. But when you "win" the competition, what are you actually winning? That's a question author Irena Smith poses in her recent memoir, The Golden Ticket: A Life in College Admissions Essays.
Irena, who also runs a private college counseling practice, has seen how much the pressures of college are impacting our kids' mental health and limiting their futures, and she believes that it's our job as parents to take a step back and remember what's really important. "Pushing a kid to punch above their weight in terms of applying to college is not necessarily a healthy thing. Maybe the goal is simply that the kid graduates from high school with health and sanity intact. There's a lot of time to figure out what to do."
During our conversation we discuss Irena's brilliant book and the writing process behind it, her ADHD childhood and emigrating from the Soviet Union, some measurable ways parents can reduce the pressure on both their children and themselves during the college admissions process, and so much more.
Resources:
Website: https://www.irenasmith.com
Facebook: Irena Smith, Author
Instagram: @irena.smith
Tracy's program: Your ADHD Brain is A-OK
---
Mastering Your ADHD Brain Means Learning How to Trust Yourself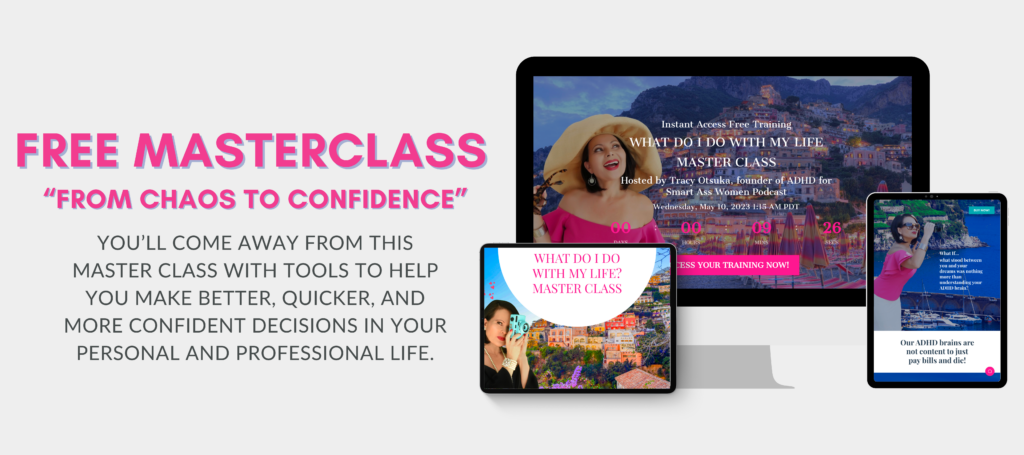 ---
Timestamps
| | |
| --- | --- |
| 00:00 | Introduction and background of Irena Smith |
| 04:25 | Irena's recent ADHD diagnosis |
| 05:50 | Irena's childhood and ADHD symptoms |
| 08:35 | Symptoms and traits of ADHD |
| 11:46 | Writing process of Irena's book |
| 16:24 | The pressure of college admissions |
| 21:55 | The value of college degrees in the workforce |
| 27:29 | The flaws in the college ranking system |
| 32:33 | The importance of recognizing individual brilliance outside of college |
| 36:08 | The changing landscape of college admissions |
| 39:52 | The impact of Irena's book on the Palo Alto community |
| 47:19 | Lessons learned from each of Irena's children |
| 52:00 | The importance of being true to oneself |
| 58:57 | What Irena would do differently as a parent |
| 1:04:56 | Reducing pressure on children during the college application process |
| 1:02:36 | The importance of having more options for success |
| 1:03:31 | The role of college in success and social media role models |
| 1:04:01 | Individual core values determine life choices |
| 1:04:44 | Reducing pressure on children during college application process |
| 1:04:56 | Maintaining a speaking relationship with children during high school |
| 1:05:48 | Taking college off the table as a point of discussion |
| 1:06:27 | Having conversations about family history and values |
| 1:07:11 | Encouraging family book clubs and avoiding micromanaging college essays |
| 1:08:51 | Writing college essay prompts as a parent exercise |
| 1:09:25 | Using timers and deadlines as ADHD workarounds |
| 1:10:00 | The wisdom gained from life experiences |
| 1:10:23 | The changing generations and their rejection of wisdom |
| 1:10:35 | The impact of ADHD diagnosis on self-awareness and understanding |
| 1:11:30 | The positive response to ADHD diagnosis from others |
| 1:12:45 | Medication and finding the right dosage and type |
| 1:13:53 | The importance of understanding and forgiving ADHD quirks |
| 1:14:27 | The unpredictability of medication effectiveness |
| 1:16:06 | The impact of medication on behavior and social interactions |
| 1:17:19 | The importance of compassion and understanding in relationships |
| 1:17:28 | Surrounding oneself with a supportive community |
| 1:18:01 | Creating deadlines and using timers as ADHD workarounds |
| 1:19:17 | Using the Datex timer as a starting tool |
| 1:20:05 | Where to find Irena's book |
| 1:20:38 | Contacting Irena through her website |
| 1:21:12 | Wrapping up the conversation |
| 1:22:09 | Outro and invitation to leave a review |